to maintaining your new Vinyl Plank from Carpet Mill Outlet
Luxury Vinyl Plank floors provide a distinct beauty and warmth to your home. The best way to maintain that beauty is with the right cleaning routine.
Luxury Vinyl Plank is a low-maintenance flooring option. While constant foot traffic can have an adverse effect on the flooring, homeowners can help keep their vinyl flooring looking beautiful with routine weekly maintenance. By taking proper care of your Luxury Vinyl Plank, you will extend the lifespan of the flooring and keep your home looking great.
Sweep often
You can effectively remove dust, sand, and grit simply by sweeping or vacuuming your Luxury Vinyl Plank floor on a weekly basis. You'll want to be careful not to use a vacuum with a beater bar, as these may scratch your floors.
We encourage you to use the brush & hose attachments as needed.
Mop when necessary
For a deeper clean, you can instead mop the floor with warm water. There are also a variety of cleaning products that can be used, but ensure that you only use those that your floor's manufacturer recommends.
If you're unsure, reach out to a member of our team for advice on which solutions are safe to use for your flooring. When you've finished mopping, make sure you rinse the surface & towel dry to avoid leaving behind a thick film.
When caring for your vinyl floors, don't:
Use harsh chemicals.
Use steam.
Place door mats at the entrances of your home
Place door mats at each entryway to collect excessive moisture or dirt before they have the chance to enter your home.
Floor protectors on the bottoms of furniture will prevent possible scratching or abrasion. Use caution when moving heavy furniture or appliances.
You should also keep your pets' nails trimmed to minimize scratching.
Regular maintenance will keep your vinyl flooring looking like new for years!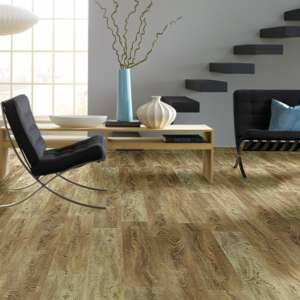 ALL ABOUT
Vinyl Plank Products
Ready to choose your next carpeting style? Browse Pierce Carpet Mill Outlet's collection of in-stock Luxury Vinyl Plank products in Montana.